These Trader Joe's jicama wraps are perfect as an alternative to tortillas. So many people in the last few months have asked me where to buy jicama, and I think it's from seeing articles on how healthy it is. Of course Trader Joe's is always ahead of the curve on healthy products so sure enough these jicama wraps have been at TJ's for a good while now. I was super skeptical of using a bean (technically they are in the bean family!?) as a wrap. But wow are these a pleasant surprise. At first when you take them out of the package they are a tad slimy and cold. Then when I put my grilled chicken tender inside with some bbq sauce, they somehow kept everything together, stayed intact and absorbed all the juice. Trust me, these are a great, healthy wrap replacement as long as you don't judge them right away…….


7.5 calories per jicama wrap (yes only 7.5!)
Perfect to use for tacos or any wrap
There are a lot of jicama wraps in each package. Way more than it looks like!
Net Weight: 7.48oz

*Disclosure: I only recommend products I would use myself and all opinions expressed here are our own. This post may contain affiliate links that at no additional cost to you, I may earn a small commission. Read full privacy policy here.


Trader Joe's Jicama Wraps

These tortilla or taco shell replacements are native to Mexico. The only warning I would give is that the expiration date is usually only a week or out, and there are lots of wraps in the package, so make sure you need a bunch of them or you may not get your money's worth. But TJ's is definitely cheaper than nearly every grocery I've seen that also carries a version of these, including Whole Foods. The thing that surprised me the most bout these was that they somehow absorb flavors and juices while simultaneously being slick and slimy in a good way. What recipes does everyone like to use these jicama wraps with?


Price: $3.99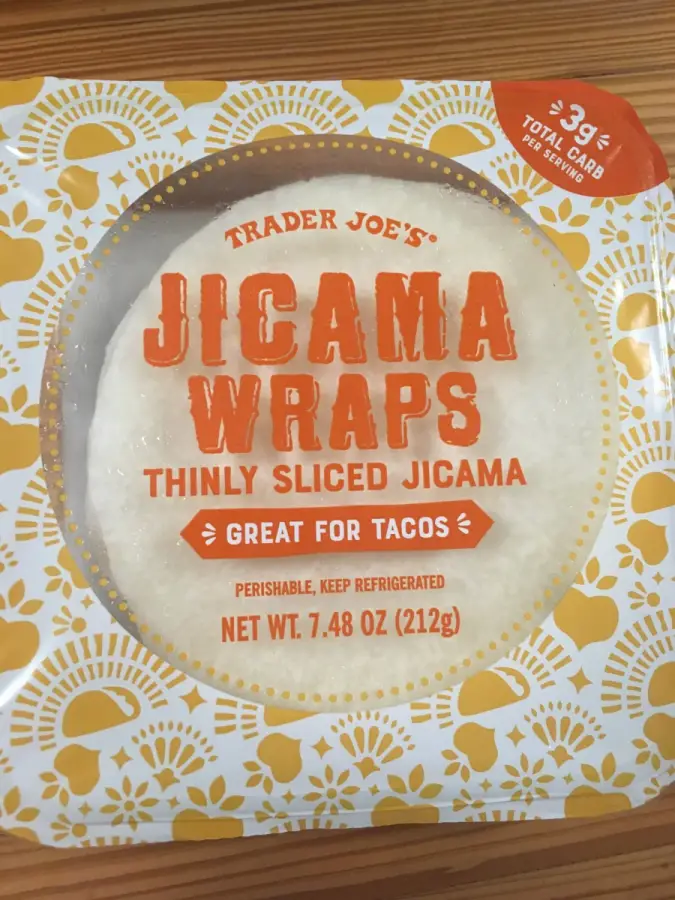 Other posts you may like……