This Trader Joe's green goddess seasoning is a surprisingly versatile and delicious blend of spices. You can add this to sour cream, make dressing out of it, or add it to pretty much anything that you want the green goddess style flavor in. When I first saw this green goddess seasoning I was a little skeptical that it wouldn't be that useful, but the taste is actually really, really delicious. This is one of a growing number of seasonings in the spice aisle at Trader Joe's. This Trader Joes green goddess seasoning and the Ajika seasoning are my two favorite seasonings that have been introduced in the last year or so………….


0 calories per serving

Net Weight: 2 oz

95 milligrams of sodium per serving

*Disclosure: I only recommend products I would use myself and all opinions expressed here are our own. This post may contain affiliate links that at no additional cost to you, I may earn a small commission. Read full privacy policy here.



Green Goddess Seasoning Blend at Trader Joe's

Trader Joe's green goddess seasoning can be used in so many different recipes and dips that it's hard to pinpoint what its best use is. How does everyone like to use this seasoning in recipes? I'd love to know if anyone has a go to way they use this, or a recipe they add this to that is super yummy. This seasoning blend is sort of how versatile I was hoping the ranch seasoning blend would be. And if you can't make it out to TJs, give these items a try…..

– Kraft Green Goddess dressing

– Savory Spice Green goddess seasoning


Price: $2.49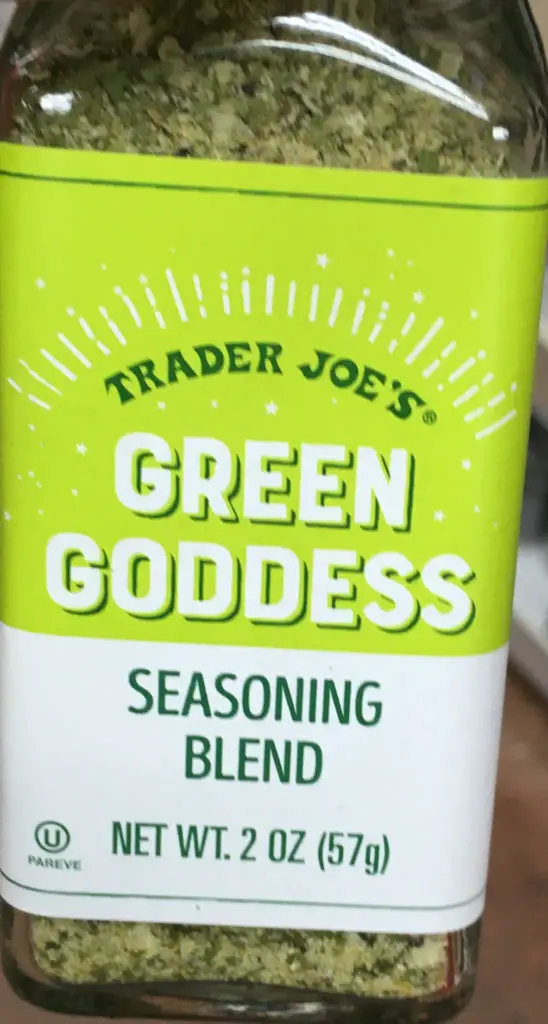 Other posts and links you might like….